TODAY'S NUDGE: Write about your hometown, your roots, or where you come from.
I'm from a self made man, born as the 2nd world war came to a close.
I'm from a man who worked his way up, from a woman who did the same, pushing hard each and every day until one day they were able to buy their own business.
I'm from a 1970s newsagents. We lived above and behind the shop with no more than a tiny yard with a loose brick incinerator in the corner, and the alleyways and streets to play in.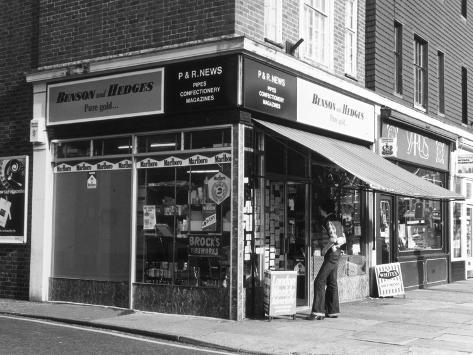 I'm from 1970s fashion, even when I was just learning to walk. (Check out my mom's outfit)
I'm from parents who decided they didn't want his children to live the way they had and moved the family all the way across the city to a beautiful, green suburb with a chocolate factory at its heart, while still getting up at 4am every day to drive over to the newsagents shop to open up.
I'm from going to school opposite the chocolate factory, being able to smell the chocolate from the playground if the wind was in the right direction. I'm from old school buildings with tall ceilings and a classroom in the bell tower. I'm from a time when parents were not allowed inside the school gate unless they had an appointment with a member of staff.
I'm from Silver Jubileee street parties and fancy dress competitions.
I'm from tennis, and golf and sailing, and squash, but mainly tennis, lots and lots of tennis.
I still have one of the trophies they won, even though both my parents have passed away now. I'm from sporty parents but I have never been a sporty person, and I spent many hours at the tennis club sat under a tree daydreaming or reading. Yet this trophy, now that I have cleaned it up takes pride of place on my sideboard.
I'm from Girl Guides, and Scouting and Volunteering, they were all a part of my growing up, my parents were always aware that there was need outside of us. I'm from following in my father's footsteps, becoming the chair person of the scout group my children were in just as my dad had been for the scout and guide group I had been in.
I'm from a man who looked so like his dad it was crazy.
I'm from falling in love and falling pregnant, aged just 19 and having to leave a teacher training course at university to care for my son. I'm from not regretting a moment of that and understanding that God doesn't let anything be worthless, as 24 years later I got to stand in a classroom and teach a bunch of kids, in my new job in a school.
I'm from being mom to a second son who had surgery aged 8 months old after multiple infections in those early months. I'm from being mom to that same son, who now has 2 chronic digestive conditions and battles through it all, having completed his degree and is now off to do a Masters Degree on top of that!
Where, what and who are you from?
You can check out the sites I link up to over in my sidebar. Before you go, why not check out my
recipes index page
, or my
craft projects index page
, I am sure you will find something there to interest you.